Full color Brochures, Postcards, Rack Cards, Flyers
and
Mailers can be impressive!
At Pirone Graphics, we have many sizes printed on top-quality 14 point stock, coated on both sides. With choices of full color on one or both sides or with color on the front and black ink on the back. All cards come with free UV coating on full color sides which makes them
super glossy. You can have your brochures, flyers and mailers folded in a number of ways. All printed high resolution, full color on premium paper for your best advertising results.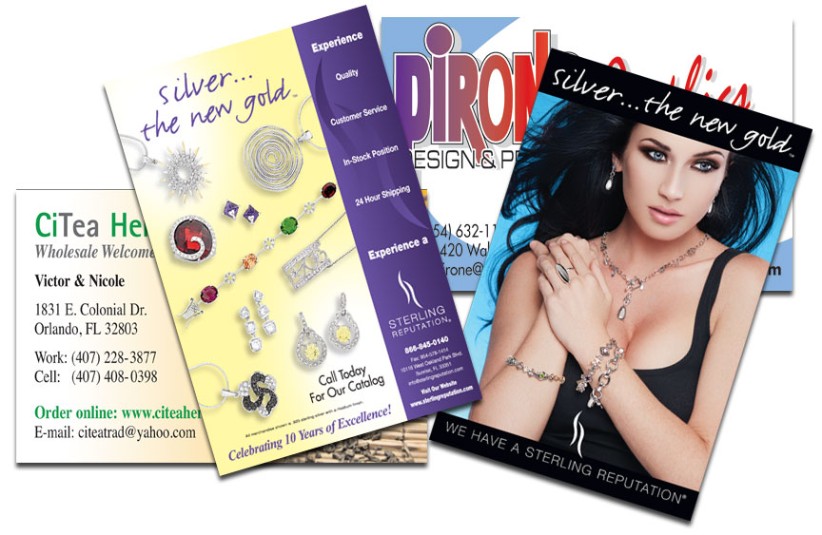 *****************************************************
Ordering is Easy . . .
To get your full color, high resolution brochures, postcards, rack cards, mailers and catalog sheets:

Put the following details in an e-mail to us:

1. Pick your Product, Size and Paper from the Price Charts on the right.
2. Choose your print colors: A, B or C
A = Full color on front only
B = Full color on front, black ink on back
C = Full color on both sides

3. Pick your printed Quantity from Chart

4. Indicate if fold needed and what fold you would like for your brochures, flyers or mailers:

A. Half-Fold





5. Locate your price

6. Attach your art files (logos, photos, etc.) to the e-mail or let us create it for you.
Describe what you want in detail in your e-mail order.
(We will contact you for a consultation and price quote).

7. We will send you a proof for your approval and PayPal invoice before printing.

8. Email your printing order and art files to pirone@windstream.net

Call if you have any questions
706-864-3117
Postcard and Rack Card Price Chart
Best quality, high resolution postcards and rack cards. Printed full color on premium paper. Highly effective postcards and rack cards for all your promotion needs.

C2S = Coated 2 sides (Semi Gloss Finish)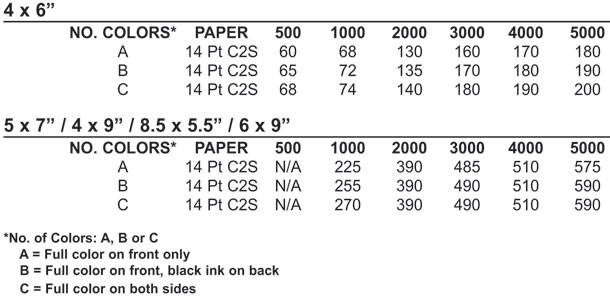 Brochures, Flyers, Mailers and Catalog Sheets Price Chart
Best quality, full color, high resolution brochures, mailers and catalog sheets. Printed full color on premium paper. Highly effective brochures, self mailers and catalog sheets for all your promotion needs.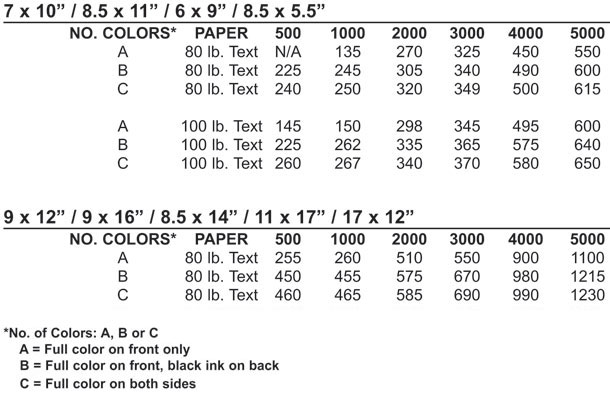 Tips on How to Create a Great Printed Piece with Pirone Graphics, Inc.
Pirone Graphics, Inc. will produce a great printed piece for you while working with you.
Here's what you need to know:
Full color, high resolution Brochures, Flyers, Mailers, Postcards and Rack Cards can be effective tools in your marketing. All our pieces are printed on premium paper.
There are great software tools available to you to produce your brochure design, like Adobe
Photoshop, Illustrator, Quark Xpress, and Indesign. Many home business owners decide to cre-
ate their own marketing pieces. We have these tools if you don't, so either way you are covered.
Here are a few important tips you should know that will help your printed pieces look professional
when it comes time for printing.
1. Chose A Correct Print Size.
Your artwork must be setup in the correct size to avoid lots of rework by us before printing.
Don't use a 9 x 12 layout for printing on 81/2 x11 paper. We will have to stretch or shrink
your artwork to fit the paper. This could effect the quality and resolution.

2. Allow for Bleed
It is an additional amount of margin that's needed so that the final paper can be cut to the correct
size while allowing for the fluctuations in the printing process.
Designing your art with an extra 1/8th inch of coverage beyond each edge is recommended.

3. Resolution is critical
Using high-resolution (high quality) images in your design is a key step toward creating a professional looking
piece. If you submit something for print that isn't the proper resolution, your images will come out
'soft', blurry, or even "pixilated."

The resolution of images on your computer monitor are only 72 dpi (dots-per-inch). Your images should be at
least 300 dpi to print clearly with full sharpness. There are a variety of stock image sites on the web
where you can obtain inexpensive, high-resolution, royalty-free images to use in your designs. Some
stock image sites even offer free high-resolution pictures you can use for your piece.

4. Choose High Quality Paper and UV Finish
We offer 80lb or 100lb stock & cover paper, with a variety of gloss, UV & matte finishes. It's your
choice. 100lb stock is more substantial than 80lb stock paper without a huge cost difference. Using
a heavier paper may impress a potential customer.
Adding a UV finish will add gloss to your paper and will prevent fingerprint smudges on your final product.

5. Creating Your Own Design
Think about what you want to communicate with your piece. What information are you trying to
relay? Look at your competitors to see what they're communicating in their advertising materials.
Provide all the necessary contact information? Decide what makes other designs stand out?

The cover of your marketing pieces are what people see first, so make sure the front is appealing
and makes prospective customers want to pick it up! A well-designed piece that's professionally
printed can be worth a great deal more than its cost.


If you need help or have questions, contact us:
By Phone

-
706-864-3117
or (954) 632-1169
By Fax

- (706) 864-3117
By Email

- pirone@windstream.net

We will contact you with a price quote
and shipping cost (if applicable)


We prefer PayPal payments.
Please contact us for other payment options.


Submit your artwork today or let us do it for you!


Our Products Include:
• Business Cards - Full color, fast, best prices
• Post-It® Notes - Many colors to choose from!
• Checks - Top quality, state of the art security
• Business and Computer Forms - See online catalog
• Brochures, Postcards and Rack Cards - Full color, high resolution printing
• Catalogs & Programs - One color to full color
• Labels - Thousands of sizes & shapes
• Tags - Thousands of sizes & shapes
• Letterheads - Any style, any colors
• Envelopes - Business, window, catalog or book types
• Flyers & Mailers - Full color glossy, tri-fold, z-fold, self mailers
• Presentation Folders - Huge selection, all styles/colors, sizes, pockets, accounting covers, embossed, foil stamped
• Signs, Banners & Posters - Vinyl, plastic, canvas
• Magnetic Signs - Car & truck signs, magnetic business cards
• Trade Show Displays - Custom made for your booth/display