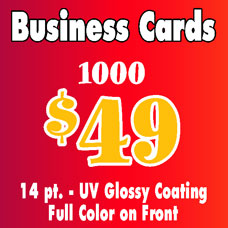 FREE Shipping with these specials only
$49

.............. 1000 Full Color printed on Front only.
$59
.............. 1000 Full Color printed on Front and
Black Ink printed on back.
$64

.............. 1000 Full Color printed on Front and Back.
EMAIL ART FILES OR ART PREP. REQUEST TO:
By clicking the Submit Button above you are requesting a price estimate. You will only be billed upon approval of the price estimate.
Attach your art files (logos, photos, what you want printed on the Business Card) to the e-mail or:
Option: let us create artwork for you. Describe what you want printed on your label in detail in your e-mail order. We will e-mail you an artwork price quote ).
We will e-mail you an invoice to pay for your order using any major credit card through PayPal. After you pay, we will send you a proof before printing your job. Upon proof approval we will print and ship your job to the address provided.

Shipping Note: Our standard shipping method is via UPS ground (Street address required; UPS will not deliver to PO boxes.)

If you need rush or express shipping please call us at:
706-864-3117
or if you have any questions or need help:

That's all there is to it!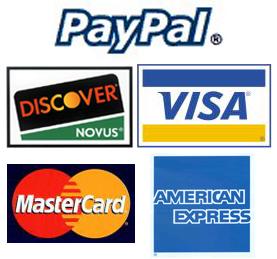 If you need help or have questions, contact us:

By Phone -706-864-3117 or (954) 632-1169
By Fax - (706) 864-3117
By Email - pirone@windstream.net

Please contact us for other payment options.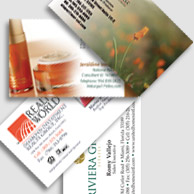 Full-Color Business Cards
with Your Photos & Logos!
Best Quality, Best Price!




We create the best full-color business cards on the net.
We help you to
create a business card that represents
you or your company.
Our design options are exciting!
We have countless images, fonts, and design ideas.
Business Cards are printed in 4-color process color and
include your high quality photos
and/or logos printed on
one side or on two sides. We print on the highest quality
offset press
es (the standard for the industry.)
All cards are printed on premium papers with a 14 pt or 100 LB. thickness.
Business Card Price List
(Shipping Charges additional)
Super Glossy or Matte Finish (5-7 bus. days)
Printed 500 1000 2000 5000 5000+
4/0 $44 $49 $61 $ 94 Call Us
4/1 $57 $59 $85 $128 Call Us
4/4 $62 $64 $90 $133 Call Us
4/0 = Full Color printed on Front only.
4/1 = Full Color printed on Front and
Black Ink printed on back.
4/4 = Full Color printed on Front and Back.
Security



The Information on your Business Card is secure!
We will never sell or share your business
data.
We are not a data collection company.
We keep your complete order history for reorders and can make any changes necessary to
your new card for reorder. It's a simple, easy to use, quick way to get the cards you need!
Each card is saved, allowing them to be ordered easily whenever you need them reprinted.
In addition to the peace of mind that our privacy policy offers, we also back our cards with a
100% satisfaction guarantee. This means we will reprint your cards at no charge, if you are
not completely satisfied (however, it is your responsibility to check the spelling of your name
and provide other information accurately. Please proof your business card thoroughly before
approval for final print.).
Submit your artwork today or let us do it for you!
Our Products Include:
•
Business Cards
- Full color, fast, best prices
•
Post-It® Notes
- Many colors to choose from!
•
Checks
- Top quality, state of the art security
•
Business and Computer Forms
- See online catalog
•
Brochures, Postcards and Rack Cards
•
Catalogs & Programs
- One color to full color
•
Labels
- Thousands of sizes & shapes
•
Tags
- Thousands of sizes & shapes
•
Letterheads
- Any style, any colors
•
Envelopes
- Business, window, catalog or book types
•
Flyers & Mailers
- Full color glossy, tri-fold, z-fold, self mailers
•
Presentation Folders
- Huge selection, all styles/colors, sizes, pockets, accounting covers, embossed, foil stamped
•
Signs, Banners & Posters
- Vinyl, plastic, canvas
•
Magnetic Signs
- Car & truck signs, magnetic business cards
•
Trade Show Displays
- Custom made for your booth/display